Louisiana Movie Poster Museum
Welcome to the the Louisiana Movie Poster Virtual Museum. Since 1895 more than 3,000 movies have been made in or about Louisiana. These posters advertised a few of them. We have hundreds to add, so check back with us as we grow.
Ed and Susan Poole, renowned movie poster experts and authorities on Louisiana film history, curated this initial exhibit. It is based on the Backdrop Louisiana! exhibit that premiered in Slidell, Louisiana in January, 2020 and we're looking forward to a post-pandemic tour. A smidgen of their knowledge can be found at Learn About Movie Posters, known worldwide as LAMP. Visit Hollywood on the Bayou for a deeper dive into Louisiana film history.
This museum is funded in part by grants from the New Orleans Jazz and Heritage Foundation and the New Orleans Entertainment Coalition.
Take a Tour – We love your stories!
Click on a poster to view larger image. Then click "i". Post your story in Comments. We love to hear about films you remember and your experiences. It's a highlight of our live exhibits that we hope to recreate in the virtual museum.
Share your favorite posters on Twitter or FaceBook. Find links by clicking Info.
Wacky World of Dr Morgus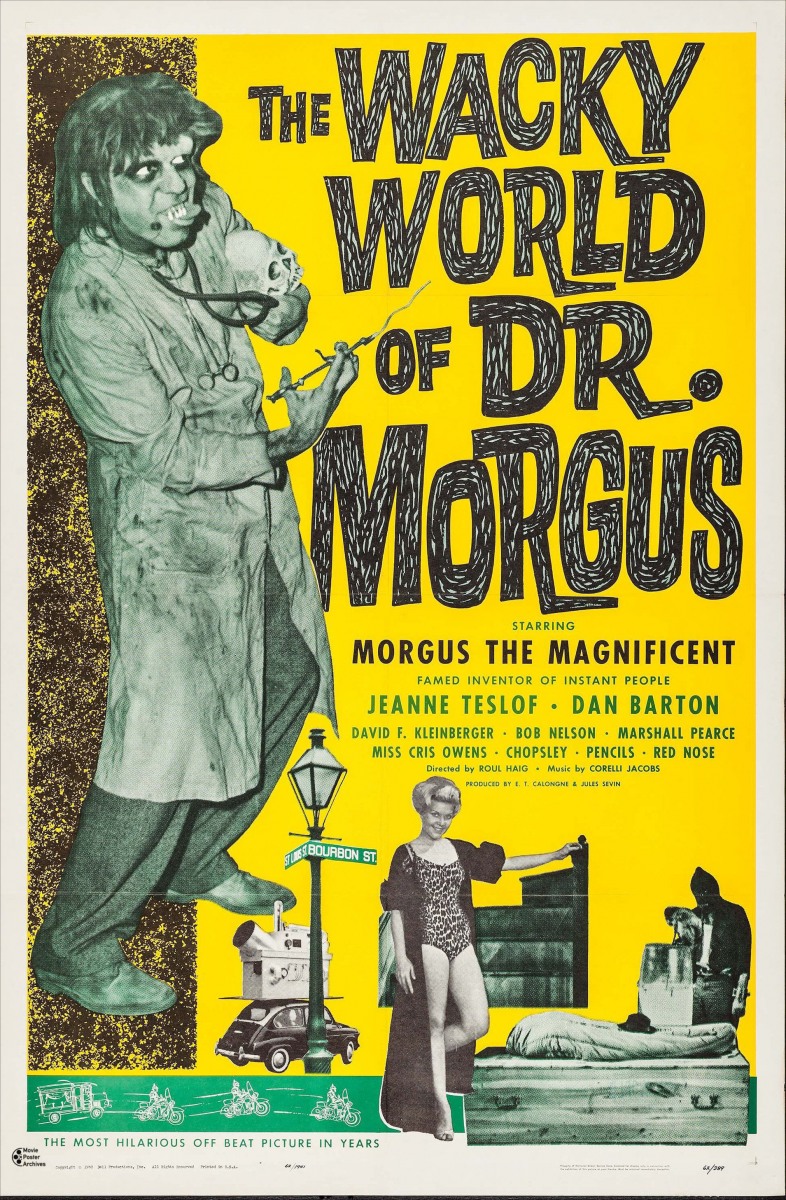 Image 35 of 35
Beloved mad scientist Dr. Momus Alexander Morgus made his New Orleans TV debut in January of 1959 in the show, The House of Shock. The creation of local radio star and native New Orleanian Sid Noel, Dr. Morgus lived in a lab on top of the Old City Icehouse that had a fire escape exit into Pirate's Alley in the French Quarter. The TV show was a hit.

With the popularity of "B" movies on the rise, Noel (who later changed his name to Noel Rideaux) was approached by local investors Eugene T. Calongne and Jules Sevin, partners in the motion picture theatre business in New Orleans, to make a full length feature film starring the kooky character. The result was the 1962 "local classic" The Wacky World of Dr. Morgus, which was written by Noel Haig and directed by Roul Haig.

In his New Orleans French Quarter laboratory, Dr. Alexander Morgus invents an "instant people" machine, capable of turning people into sand and then restoring them. Bruno, unscrupulous ruler of Microvania, uses the machine to place 300 spies in the United States, hoping to steal American secrets and sell them on the world espionage market, thereby enriching his country. Top spy Mona Speekla, responsible for obtaining the services of Morgus and utilizing his invention for Bruno, falls in love with reporter Pencils McCane, who helps to thwart the evil ruler's plans.

In addition to Noel, the film starred Thomas George as Chopsley, Dan Barton, Jeanne Teslof and Cris Owens, who was originally approached to play Teslof's character but was too busy with her nightclub career.

One sequence of the film was shot in Kiln, Mississippi and a second on a farm above Kenner. The rest of the picture was made on location in New Orleans.

A few exteriors were shot outside the St. Louis Street club Chris Owens used as her performing base before moving to Bourbon Street. The dance sequence captured in the film was shot in a club called The Swamp Room.

Noel did most of his own stunts for the film, which included rooftop scenes shot in the French Quarter.

Poster: U.S. One Sheet
Related Images: